How to receive Financial Aid on Coursera to Get Paid Course for Free in 2-Easy Steps?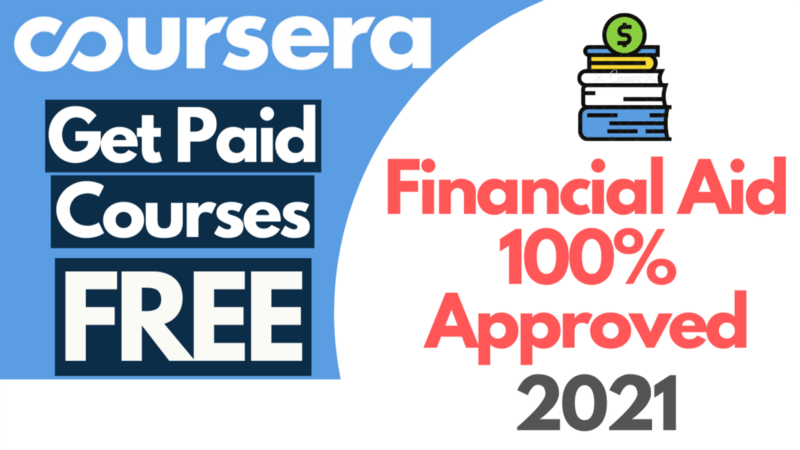 Coursera is an American massive open online course (MOOC) provider founded in 2012 by two Stanford university professors, Andrew Ng and Daphne Koller. The platform works with Universities and other platforms to offer online courses, certificates, and degrees across a variety of subjects.
The course offerings on the platform are for a large part free, i.e, if you take a course with only the purpose of learning and accessing the course materials you won't be charged anything. But, if you also need a course completion certificate from the University/Institution offering the course and Coursera, you will need to pay the course fees.
Note: The completion certificate is a digital certificate provided by Coursera which is easily shareable and contains credentials wherein the certificate viewer can testify that the claimant has actually taken the course.
However, Coursera has a provision wherein the learner who requires a course completion certificate but could not afford to pay for it can opt for Financial Aid.
How to Apply for Financial Aid?
Most of the learners might be looking for a frequently asked question like "How can I get Coursera for free?" The procedure for applying for financial aid is quite simple. Let's go through the process step-by-step:
1/ Select the Course of your choice and navigate to the homepage of the course.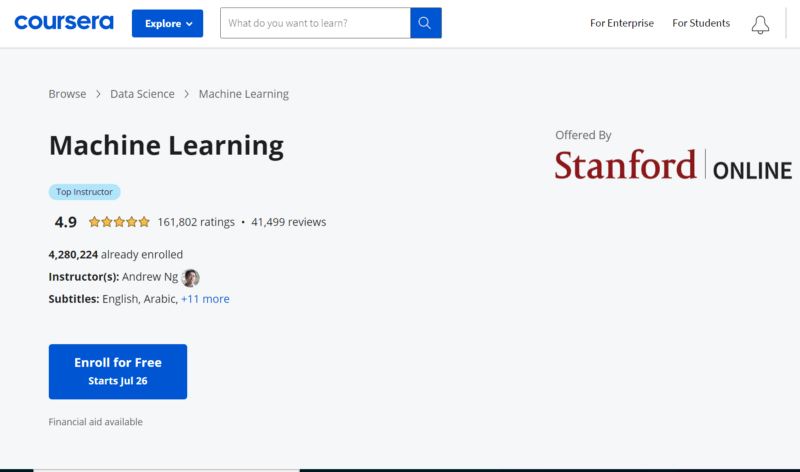 2/ Below the course instructor's name, there will be a hyperlink that goes by the name Financial Aid available. Click on the hyperlink and a small dialog box will open up.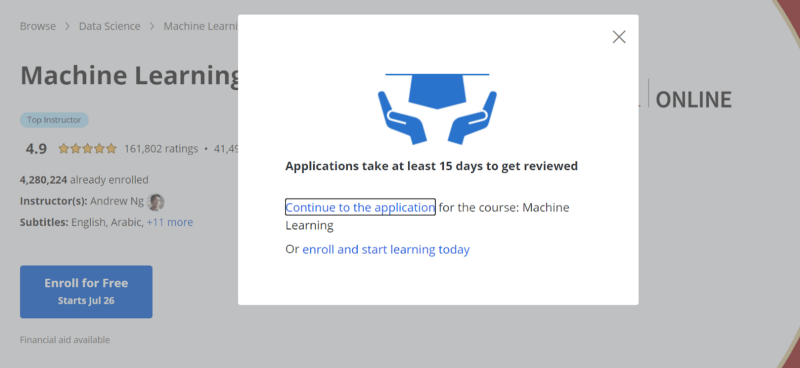 3/ Further, click on the continue to an application will navigate you to the page below.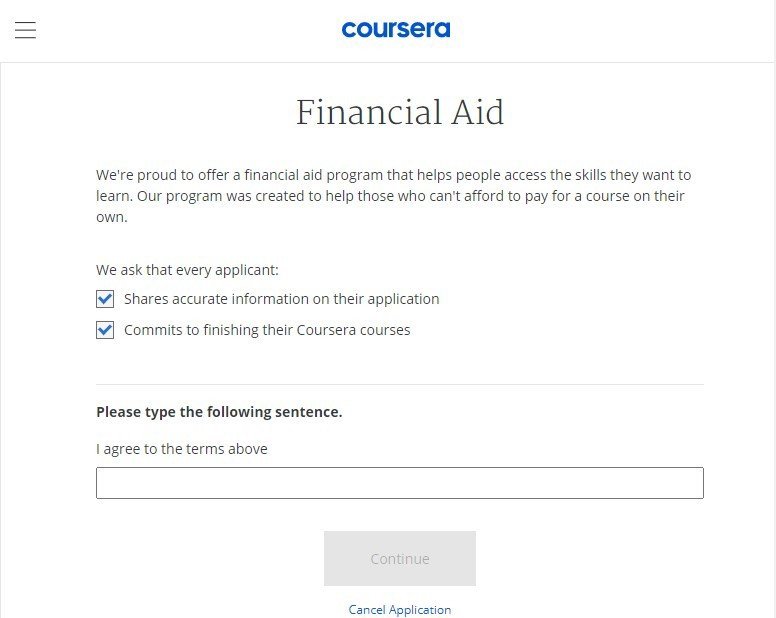 On this page, check the two square boxes and copy-paste the text "I agree to terms above" in the box provided, and click on Continue. This will bring you to the page below.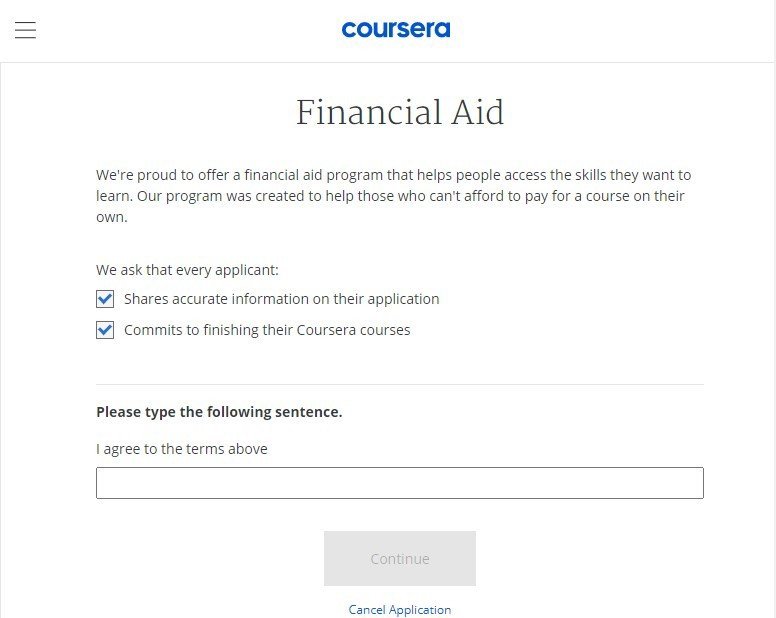 Fill in all the information about your educational background, employment status, and your annual earnings (if applicable). Further, you will need to answer a few questions, that will help them understand your goals, how this course will help you in achieving them and why exactly are you applying for financial aid.
How and what to write a Coursera financial aid application answers?
Most of the learners who apply for financial aid for the first time might have questions like "How can I answer questions of financial aid?" as they might be nervous and unclear about the same. We have shared a few useful pointers and answers written by the blog author while he applied for financial aid.
Answer truthfully. If you can pay, please pay to help Coursera offer this aid to the needy 🙏
✍️ Why are you applying for Financial Aid❓
You need to tell them about your financial background and current financial condition.
Tell them you are a student and don't make any/ enough money to pay for the course.
Your current education status and the degree you are pursuing/ completed.
Your career goals.
Tell them the course fees are too high for your parents to afford it for you.
Vaibhav's answer
I am an Electrical Engineering graduate and am learning data science from online portals like Coursera and other open-source portals. I have found this course and its content to be quite useful. Also, I am looking for a job in the Data Science domain and so getting a certificate for this course would be quite helpful in showcasing the skills I have gained to a future potential recruiter.
However, given my current financial condition, I wouldn't be able to pay for the same. I am currently not employed and still in the process of building skills in the field to land a job. Thus, it will be difficult for me to pay for the course. Also, currently, my father is the sole breadwinner in the family right now and is already burdened by the household expenses. Thus, it is very difficult for my family right now to pay for this course.
Hence, considering the current financial situation of my family, I request you to please grant me financial aid for this course, since this course would really help me in starting my career in Data Science.
✍️How will taking this course help you achieve your career goals❓
Tell them about your career goals and how this course would help you in achieving them.
Describe your primary purpose behind taking this course.
Tell them how will you benefit from different aspects of the course.
Vaibhav's answer
I am looking to start a career in Data Science and so am actively looking out for a Data Science internship/ entry-level role. I am currently pursuing a number of online courses from various online platforms and am currently building my online portfolio. This is one of the most important courses I am taking currently and one of the most crucial skill sets that I need to build to land an internship/ job. And, thus I need a course completion certificate to showcase the skillset I have gained through this course to a potential recruiter.
This course also has quite detailed and practical assignments which will give me hands-on exposure to the exact skill set that I need to gain. There are very few online hands-on practical courses out there and this is one of them and so I do not want to miss out on learning from this one.
Moreover, there are peer-reviewed assignments in every single module of the course which will give me varied perspectives of approaching the same problem and expand my learning horizon. Also, peers reviewing my approach will help me track my progress in what aspects of the skillset I need to focus on and what concepts I need to put more work on.
All in all, this course is a great learning opportunity for me and will help me in getting my best foot forward and open doors for me in the Data Science industry by landing my first Data Science role.
Further, you will also be asked to consider an option of a low-interest loan to pay for the course.
If you answer no, you will have to answer why❓
Here, again you can mention the financial state of your family and yourself and any liabilities that your family has and so why can't you opt for this option.
How long does it take Coursera financial aid?
Please note that do not try to start the course once applied for financial aid, as a result, your application may get rejected. My humble request is to wait for 15 days till it gets approved. It will be notified over email to your registered email ID by Coursera.
Frequently Asked Questions
Does writing the same answers in two different financial aid applications on Coursera can affect their approval?
I don't think so, I had similar answers for all my applications that got approved. This is intuitive since the reasons for applying for financial aid aren't going to change.
Why does it take 15 days to approve financial aid in Coursera?
There isn't much clarity around this from Coursera. But, this is my reasoning, they probably want to make people who are impatient and also can afford the course fees buy the course. This might help their revenues. I feel there isn't much to this. (Note: None of my applications took 15 days to get approved)
If I get Financial aid for one course and if I don't complete that course then will it affect my future financial aid request?
No, it doesn't affect your other future applications. Also, you can request financial aid for another course once the financial aid for one course is approved.
How many times can I get financial aid from Coursera?
Well, in particular, there is no limit to the number of times you can get financial aid from Coursera. But, according to the Coursera support forum, you can only have 11 pending Financial aid applications at a time. Once, they are approved, you should be able to apply again.
HAPPY LEARNING 🎓
If you like what we do and want to know more about our community 👥 then please consider sharing, following, and joining it. It is completely FREE.
Also, don't forget to show your love ❤️ by clapping 👏 for this article and let us know your views 💬 in the comment.
Join here: https://blogs.colearninglounge.com/join-us