Qure.ai: Journey of an Indian Healthtech company going global
In this podcast, we take a closer look at health tech startup Qure.ai which went from using AI to make diagnostic imaging easier and more affordable to focusing on coronavirus testing globally.
Qure.ai develops deep learning solutions that automatically read and interpret medical images, like X-rays. CT scans and MRIs. The company's product is an AI-based radiology diagnostic aid, and the flagship applications focus on chest x-ray, abnormality detection, and brain CT scan analysis for emergency care.
This Mumbai, based healthcare startup recently raised $16 million in funding led by Sequoia, India, and supported by mass mutual ventures in Southeast Asia. For the audience, the same investor. Also invested in technology, backed companies, such as BYJU's, Zomato, GoJek, CRED, and many more. Now, as the world battles a pandemic. QURE.ai is ready to do its bit to help curb the further spread of coronavirus. QURE.ai also won the AI game-changer award at the sixth NASSCOM big data and analytics summit 2018. Today we have with us one of the founding members and chief of staff of Qure.ai, Rohit Ghosh. In today's podcast, we'll walk you through how Qure.ai is tapping into deep tech.
We'll hear from Rohit why, what and how behind what a tech startup is building. We also get an overview of how Qure.ai disrupted the health care products and dealt with the initial setbacks whilst launching their first flagship product QXR, along with its first time experience from Rohit about recent funding, they secured.
And to top it all off, we will touch upon the many ups and downs Qure.ai faced on the journey of being recognized as the most accurate algorithm for detecting tuberculosis on chest X-Ray. So let's dive deep into the origins of Qure.ai.

Big thanks to Laisha Wadhwa for hosting the podcast and Vineet Nandan Gupta for concisely putting it in the blog.
Qure.ai was started by Prashant Warrier and Pooja Rao, along with a talented founding team. They were pivoting ideas for their AI startup and stumbled upon the idea that there is a lack of Radiologists and X-Rays being produced and not many professionals to give their expert view.
Even in this, they decided to concentrate on two different aspects:
Firstly, X-Ray images of the Chest Area and later on Brain CT scan.
Automated Chest X-Ray interpretation — qXR product
They started collecting the images of X-Ray to train their AI model.
Initially, the dataset on which the model was trained in the lab was working with high accuracy, but when deployed at Radiology centers, the model was not working well.
The team consulted with Radiologists and then retrained their AI model.
There were two challenges in the Deep Learning AI model Interpretability and Generalisability.
After working on the problem of Interpretability, the team has published some of the research work done in building interpretable systems for AI, specifically for medical imaging.
Also, X-Ray films are in black and white images, so the real-world images in color couldn't do much justice to the training of the AI model with a Limited Data Set, which was the challenge posed by the Generalisability of AI.
Upon getting the insights from the Radiologists, the team trained the model to look into various aspects, and now the model was able to detect 15 different abnormalities in the chest.
When this model was given to Radiologists to test it out as a helping tool, they were resistant to adopting it as they felt, "How can computer software help them predict?" "It will take away their job," and so on and so forth.
Now once the chest x-ray is being analyzed with 99% accuracy.
qXR product utilized to detect TB

TB is a life-threatening disease and its mortality rate is more than the mortality rate of HIV and Malaria combined.
India is a World Capital of TB, and we are not proud of it.
Joining hands with the STOP TB campaign, Qure.ai built another product that could accelerate the early detection of TB, and the patients can be sent for a TST and/or IGRA test, which is very expensive once the initial system is detected.
Qure.ai team has 2.5 million data sets where they were able to detect abnormalities in the Chest X-Ray, now, they started training their model to detect the abnormalities near the lungs area.
When the model started to identify the abnormalities with the team Radiologist's clinical advice, the patients suspected of TB were identified early on and sent for further tests.
As the disease was detected in the early stages in patients, then treating the disease became easier.
Now with a collection of X-Ray images and patient data, Data Privacy became a critical aspect and it was taken into account and utilized very carefully.
Also, some companies claim that their AI product is 99% accurate, and some say that their product is 91% or 92% accurate in detecting the disease.
STOP TB did the comparison and an in-depth, independent evaluation exercise for the betterment of the entire community by evaluating 23,000 datasets from 5 different AI companies over two and half months, and the result was that Qure.ai came on top with flying colors which gave confidence to their team about their product.
Brain CT scan — qER product
Trauma care is another critical aspect of medicine as the patient who has been affected has to be treated on priority to save their life as time is a critical factor.
The company started to build the AI product around the Brain CT scan.
For the machine, it was merely snapshots in Black and White from the CT images, and every line which came up in images could also be noise that the machine was filtering out, and the outcome was unsatisfactory.
The challenge was that the hairline fractures were not being able to detect, and there was no breakthrough.
The team went to radiologists to understand how they look at the trauma care patients and what goes behind analyzing the images.
The doctors said that they first look at the area where trauma has occurred and then start extrapolating and looking at the impact and the diagnosis.
This gave insights to the team of Data Scientists' New Way of Thinking and they redesigned their Deep Learning model to look at abnormalities this is how the Brain CT scan product was developed.
As the company grew, the product also became much more efficient in detecting abnormalities. The team went on to file patents.
The model has to be trained on a large number of datasets initially it was trained on a 2000 data set which was insufficient and then the model was trained on 23,000 datasets and further on 2.5 million datasets.
There was a unique challenge that was encountered, different machines took images with different intensities, and the angle from which the images were taken also varied. This provided the challenge that the data set was inconsistent, and the ML algorithm rejected it.
The team deep-dived into the challenge figured out the environment in which the machines were capturing images and accordingly trained the algorithm to look into the inconsistencies and become stronger in predicting and analyzing the X-Ray images.
As the model progressed in detecting and predicting the abnormalities, the X-Ray (check it out) product got approval from CE and FDA. qXR has become an FDA-certified product which essentially adds to the credibility.
The company now offers the analyzed result of an X-Ray from its product for $1.5 per image, revolutionizing the healthcare delivery system and making it cost-efficient.
AI-Powered Pandemic Response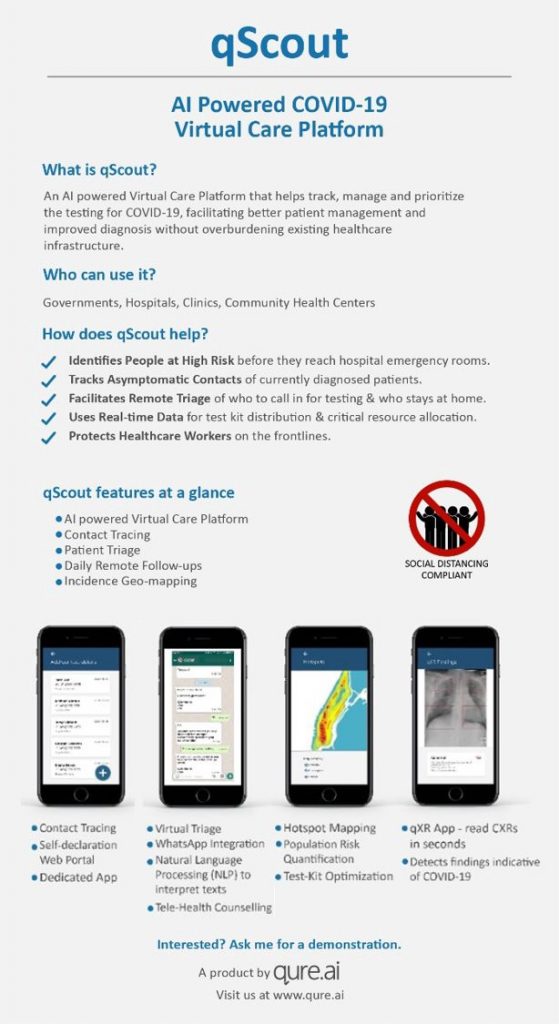 COVID 19 pandemic started impacting India in February 2020, and the entire country went into lockdown from the 3rd week of March 2020.
Qure.ai joined hands with the Municipal Corporation of Greater Mumbai MCGM for Covid-19 testing.
The company had a repository of X-Ray data, they started looking at the X-Ray data of people with a chest infections and see how to interpret it.
They trained the AI algorithm to look from a different perspective. As the literature was available from online sources and the medical teams dealing with it.
Initially, the team was deployed with doctors in hospitals, and as the cases started to rise drastically, the team established its setup in the mobile van.
These mobile vans were deployed in the containment zone and anyone having prior chest condition or abnormalities detected in the chest through X-Ray was identified and sent for an RT-PCR test.
COVID 19 has tested the healthcare infrastructure around the world, and medical workers have been burdened with the workload.
In this scenario, AI came to them as a handy tool that enabled them to be much more effective in extending their capabilities. It was as a member of the team who is working 24*7, not getting tired, and delivering consistently high-quality results.
The number of Radiologists is limited by geography and cannot be present everywhere to give their expert opinion. This product helps them to extend their capability and help more people.
AI, which was looked at with skepticism, is now welcome as a part of the team like a machine.
The product offered by Qure.ai is deployed in 6 different countries, including San Raffaele Hospital in Milan, Italy, which was a hotbed for Covid-19.
Qure.ai is present in 28 countries and has impacted more than 600,000 lives. Its technology for tuberculosis screening is being used in over 20 countries and has tied up with Nordic MedTech to deliver its product in Nordic and Baltic countries.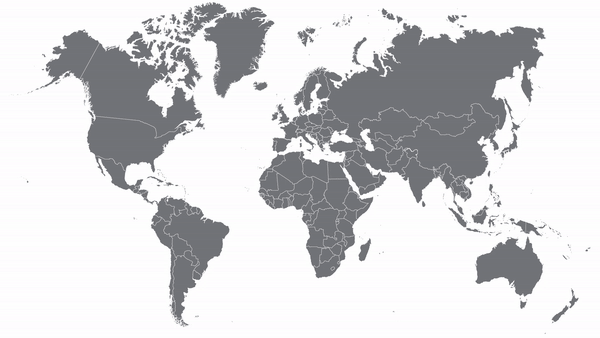 Qure.ai raised $16 billion in funding from Sequoia in February 2020 and is now on its mission to deliver Affordable, Accurate, and Faster medical diagnoses worldwide.
Qure.ai also won the AI game-changer award at the sixth NASSCOM big data and analytics summit 2018.
In 2017, it bagged many awards globally, including Top 30 promising technology startups in India and the net explore award for innovative healthcare AI from over 2000 globally technology initiatives. NVIDIA social innovation award and winning the digital pathology challenge at MICC AI.
Let's have some fun moments with Rohit,
Listen to the full episode here 🎧
If you like what we do and want to know more about our community 👥 then please consider sharing, following, and joining it. It is completely FREE.
Also, don't forget to show your love ❤️ by clapping 👏 for this article and let us know your views 💬 in the comment.
Join here: https://blogs.colearninglounge.com/join-us